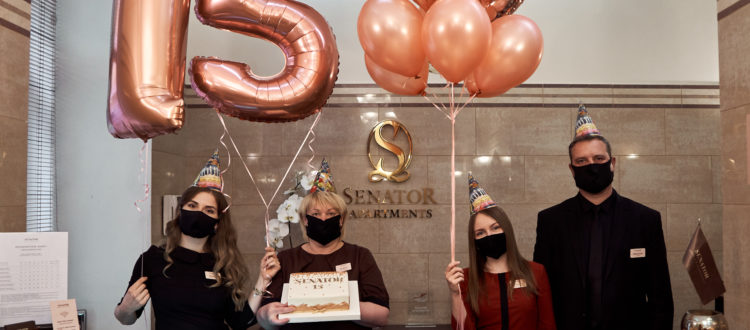 SENATOR CELEBRATES 15 YEARS OF HOSPITALITY
This year we mark a particularly significant milestone in our hospitality journey.
Today, 18 May, Senator City Center celebrates its 15th anniversary. Founded back in 2005, it gave birth to Ukraine's first chain of professionally serviced apartments in the very core of Kyiv – Senator Hotels and Apartments. It includes Senator Victory Square and Senator Maidan.
Since its launch, Senator City Center has been providing international and local travellers with high quality services combined with the warmth and comfort of home.
Its history spans a period of over 170 years and spins a fascinating tale. Here are some curious facts:
It occupies a house positioned on the street known as Bolnichna since the 1850s.
1852 – A city residential property with outbuildings was constructed on 31, Bolnichna Street
1902 – The property was ranked fourth in Europe and the first in Kyiv as an ambulance station
1909 –The building became a successful residential property – a historical prototype of serviced apartments
2005 – The site returns to its original use as Senator City Center opens its doors.
"We are happy to be the developer and operator of the Senator chain, an award-winning leader in its sector in Kyiv and Ukraine. We are proud to salute its achievements. When we unveiled the object, it was a pioneering product for the Ukrainian hospitality market," says Maryna Leo, partner at DEOL Partners (the hotel's operator) and CEO of Senator Hotels and Apartments and 11 Mirrors Design Hotel. "During these 15 years, guests from more than 100 countries opted to stay with us for a long-term or short-term period."
Guests enjoy their stay at Senator City Center, which results in its top rankings on TripAdvisor (#1 of 188 B&Bs/Inns in Kyiv, with Certificate of Excellence) and Booking.com (scored 9.0 out of 10).
"We are thankful to our amazing team. Without their dedication and effort, we would never have reached success. Every day our staff do their best to offer unprecedented levels of quality and service. Above all, it is our sincere hospitality and individual approach that are treasured by guests. Every third visitor comes back to us because they feel at home here," adds Maryna Leo.
We can't wait to welcome you back with our open hearts and arms!