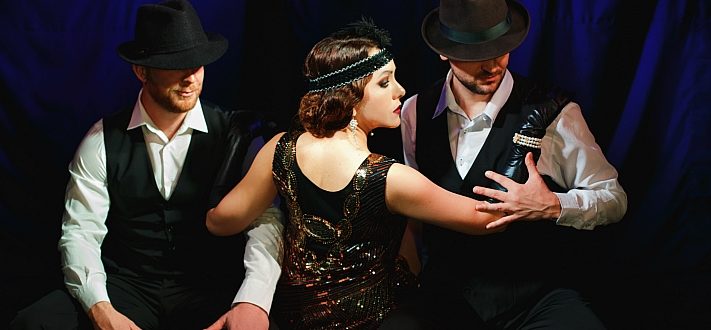 TAKE A LOOK AT THE BEST EVENTS IN AUGUST RIGHT NOW
From theatre performances to concerts and parties, there are so many things to do in Kyiv that you have no excuse to stay at home. Make August the best month ever – study our list of hot events and get ready to further explore our city.
3 August 2019 PERFUMER. AROMATIC RELAX SHOW
ARTSPACE, a joint project of Kyiv Planetarium and Eclectic Sound Orchestra, presents a new aromatic relax show – Perfumer.
Live instrumental performance by the acoustic group Revenko Band and various aromatic installations turn the show into a stunning production that helps attendees reduce their stress levels and restore their emotional balance.
A program that combines music, art and aromatherapy will take you to the wonderful world of relaxation!
8 August 2019 THE WOMAN WORTH A MILLION
Based on Italian playwright Eduardo de Filippo's play, this comedy with 'erotic' elements is a blend of various genres – an adventurous detective, philosophical farce, lyrical melodrama and unpredictable real life stories.
The play tells a story about two married couples facing serious troubles and huge debts. They are forced to take risks and embark on a clever adventure that leads to unexpected results. An intriguing plot will keep you engrossed!
8 August 2019 BLACK SQUARE. IMPROVISATION FOR ADULTS
Improvisation for Adults is a unique project that combines acting, legendary Broadway improvisational shows, audience interaction and – most importantly – the process of creating a performance here and now.
This is an engaging show with no script and with viewers being playwrights. They decide what roles the actors on stage will play the next moment. In their turn, the actors have to develop an idea prompted by the audience and transform it into a full-fledged performance. If you want to relax, have fun, manage the actors, have them quickly react to your cues and implement your ideas – grab a ticket to attend the show.
What happens when a wife strives to spend her free evening with her lover, whereas her husband goes on a business trip to meet his mistress? Everything is fixed – nothing seems to thwart their plans. Or almost nothing…
Unexpectedly, all love seekers find themselves locked up for the whole weekend! Now they have to find a decent way out, since jealousy is a very bad thing!
14 August 2019 CLASSIC ON THE TERRACE – VIVALDI
Nothing can ever compare to classical music – except for an open-air classical concert. Kyiv Mozart Orchestra, an independent project that brought together the best of Kyiv Soloists, will treat you to great Antonio Vivaldi's compositions. The musicians successfully performed both as soloists and as part of chamber orchestras, participated in international festivals as well as toured in Europe. They imparted their experience, creative ideas, knowledge and skills to their new project – Kyiv Mozart Orchestra.
Kyiv-based poet Vanya Yakimov will be the show host and your guide to the world of magnificent music. He will speak plainly about complex things and make the audience feel the very spirit of the epoch when Vivaldi created his masterpieces.
15 August 2019 TAL BABITZKY (ISRAEL)
The musician will present a series of songs that will immediately take your fancy. Tal Babitsky is touted as one of the most prolific composers and performers of our time. He released seven original albums, music for cinema and television, compositions and arrangements for dozens of performers of various genres: jazz, soul, pop-rock and others. The composer invented a new style called 'cosmic fusion'- a genre that travels between jazz and pop rock, romantic music and Latin rhythms.
Attend the event to enjoy a unique, vibrant and melodic Israeli musical cocktail concocted out of jazz, funk and soul and seasoned with ethnic and Brazilian rhythms. Do not miss the magical night in a cozy place!
16 August 2019 STRIP AND LET'S TALK!
Strip and Let's Talk is a funny and soul-touching play focused on vital things – family values. The main characters, Philip and Joanna, have been a happily married couple for many years. However, with time passing, their passion has waned. The ghost of a perfect relationship has vanished into thin air. If you want to know more – come and see what will save their relationship. You'll never guess!
The plot has plenty of comic situations and unexpected turns. Those who experienced in a family life will find the performance highly entertaining. There is always a chance to save love – this is the key message.
31 August 2019 VERTUHA ARTS FESTIVAL
With a focus on psychedelic music and art, VERTUHA ARTS FESTIVAL is a collaboration with the German Reverberation festival seeking to support cultural exchange. Reverberation's main organizer Robin Heller will become a key guest of the event. In addition to a vinyl live set, he will be a speaker at the Music Business Speaking Session, which will also feature festival organizers, PR specialists, booking experts and many other music industry representatives.
Kurenivka Palace of Culture hosts the event, and that is not a pure coincidence. Both VERTUHA ARTS FESTIVAL and Kurenivka take it as their priority to help develop contemporary art, culture and education programs in Ukraine. During the festival, more than 40 groups, DJs and other artist will perform on five stages for you.