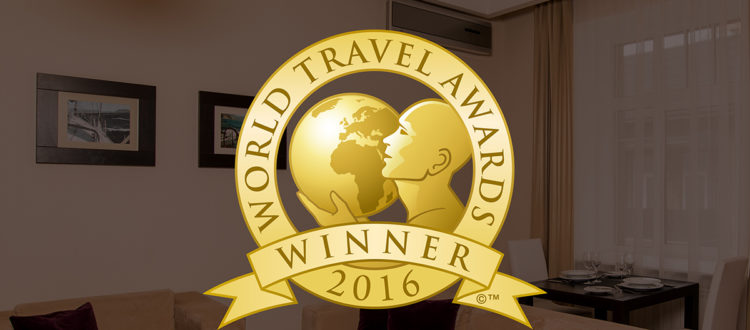 WINNER OF WORLD TRAVEL AWARDS
For the second year running, Senator Victory Square (formerly Senator Apartments Executive Court) is recognised as Ukraine's Leading Serviced Apartments by the World Travel Awards.
The winners were announced at the 23rd annual World Travel Awards Europe Ceremony, which took place at Forte Village Resort in Sardinia, Italy on September 4, 2016.  The red-carpet event brought together numerous industry professionals – senior executives from major travel companies, operators, and destination.
Senator Victory Square, an apart-hotel of the Senator Hotels and Apartments chain, was highly acclaimed for establishing and maintaining the highest quality of services, design and hospitality. DEOL Partners is a developer and operator for the Senator chain.
Ruslan Oleksenko, Founder of Senator Hotels and Apartments and DEOL Partners, said: "Senator is Ukraine's first chain of high quality, fully furnished and serviced apartments for business and private travellers.  Since its opening in 2007, the apart-hotel earned a number of international awards. The World Travel Awards is the hospitality and travel industry prize; therefore we are honoured to take it home for the second year in succession. I am grateful to the Senator team for working hard to maintain this awesome title and demonstrate brilliant results."
Since its opening in 2007, our apart-hotel Senator Victory Square earned numerous international awards
"Last year our brand Senator celebrated its 10th anniversary. When launching Ukraine's first chain of apartment hotels, we established and developed a brand new market niche in the country. This year the World Travel Awards again has ranked us as Ukraine's Leading Serviced Apartments. This recognition together with our dear guests' loyalty confirms that we did everything right and should keep moving further – to reach even more ambitious achievements," added Maryna Rymarenko, General Manager of Senator Hotels and Apartments and Partner for strategic development, investments and hospitality at DEOL Partners.
The ultimate travel accolade, World Travel Awards™ was established in 1993 to acknowledge, reward and celebrate excellence across all sectors of the tourism industry.