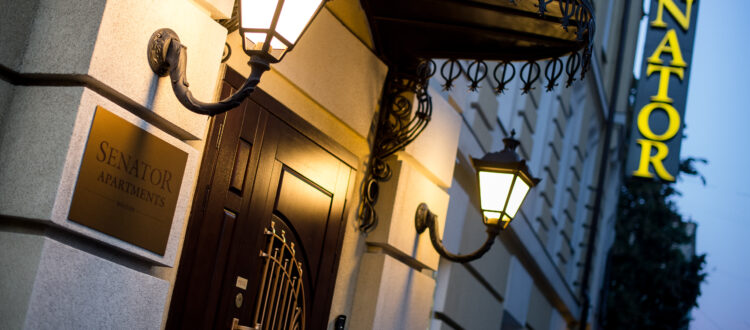 SENATOR GARNERS TRAVELLER REVIEW AWARDS 2021
It is a very good start into the year 2021 – another prize takes its place alongside other trophies in our collection.
We are thrilled to announce that Senator Hotels and Apartments has won the Traveller Review Awards from Booking.com, one of the world largest online travel agencies.
All our apart-hotels have earned 'superb' marks based on guest reviews placed on Booking.com from 1 August 2018 to 30 November 2020.
In his congratulation letter, Glenn Fogel, President & CEO of Booking.com, says that "2020 has been a hugely challenging year, in particular, we were severely limited in our ability to travel. That is why the trips your guests managed to undertake were more important to them than ever. You took advantage of this opportunity: exceptional ratings you received over the past year demonstrate how much your guests appreciate everything you do for them."
We thank our guests for choosing Senator Hotels and Apartments, and for taking the time to write their positive reviews. Here are some inspiring examples:
Guest from Sweden: "Luxury rooms and apartment in the middle of the city. Great service and great value for the money."
Guest from Israel: "Perfect place for vacation in Kyiv, accessible, luxurious and high standard apartment."
Guest from the UK: "Great central position. Terrific shower: two shower heads, one huge: plenty of hot water! Pleasant little balcony. Comfy bed. Highly recommend."
Guest from Belgium: "This hotel is central to all of the hotspots in Kyiv. My room was huge and spotless and very comfortable. One of the best things about this hotel is their people – helpful, friendly and proactive. Thank you for a lovely stay. "
This award in hospitality demonstrates Senator's firm commitment to delivering exceptional guest experiences and stellar guest service as well as our social responsibility (SafeTravels sign).
Read also about the Most Wanted Prize
Booking.com is a famous online travel agency for lodging reservations. It is owned and operated by United States-based Booking Holdings and is headquartered in Amsterdam. The website has over 28 million listings and is available in 43 languages.