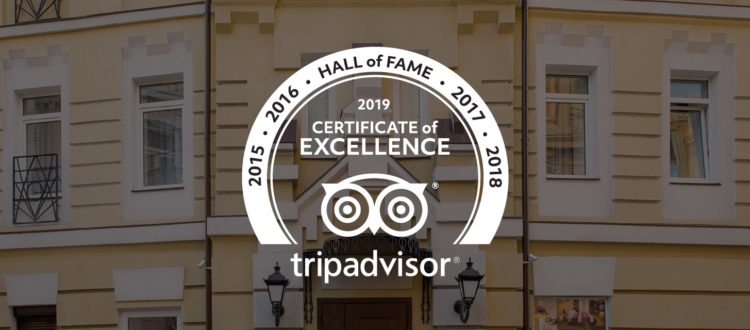 TRIPADVISOR WELCOMES SENATOR MAIDAN TO HALL OF FAME
Senator Maidan, developed and operated by DEOL Partners, has joined TripAdvisor's Hall of Fame. This unique accolade is granted only to those properties that have earned the Certificate of Excellence for five years in a row.
The Certificate of Excellence award honours hospitality businesses that consistently demonstrate commitment to service excellence and regularly receive outstanding reviews on TripAdvisor. This award is only given to the top 10 percent of accommodations, attractions, restaurants, and vacation rentals in the world.
All three apart-hotels of the Senator chain – Senator Maidan, Senator City Center and Senator Victory Square – have been maintaining a high TripAdvisor ranking for many years. Moreover, Senator City Center and Senator Victory Square were also awarded the Certificate of Excellence this year.
Iryna Dzhulai, Head of Operations at DEOL Partners: "Entering the Hall of Fame is a great achievement and great source of pride for the entire team at Senator Maidan. It is so exciting to know that our unwavering dedication to excellence is recognised by the world's largest and popular travel site.
As a Hall of Famer, we now have an additional responsibility to keep going above and beyond to make sure our guests enjoy their stay at any apart-hotels of the Senator chain, leave happy and wish to come back."
Nowadays, unbiased reviews, published on TripAdvisor, matter more than ever to travellers. We want to thank all our guests who have taken the time to share experiences they had with us – your opinion helps us continue improving our service and become better and better for you.