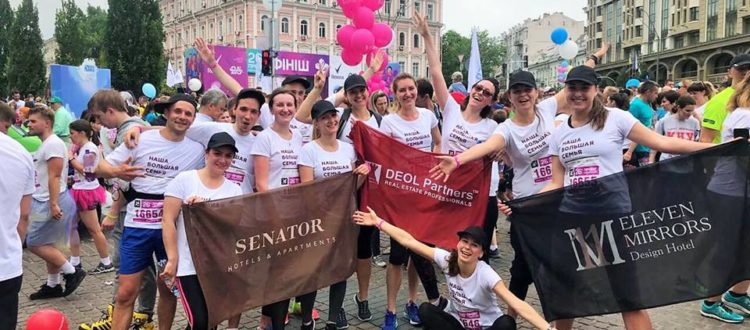 On May 26, Senator Hotels and Apartments will join the 27th Chestnut Run on Maidan Nezalezhnosti. This socially important event traditionally happens over the last weekend of May to mark the Kyiv Day.
The Chestnut Run, Ukraine's first and largest annual sports and charitable event, was launched back in 1993. The funds raised are spent on purchasing necessary equipment and medical supplies for the children's cardiology and cardiac surgery centre.
All children are born to be happy. Every kid must have an equal chance in life to succeed. The little ones suffering from heart disease also deserve to see their dreams come true. That is exactly what we want to give them – a hope for a brighter future, a right to fulfil their potential!
This year our big team (including DEOL Partners and 11 Mirrors Design Hotel) comprises 30 members, each of us is eager to take one small step towards helping little patients of the cardiology centre. One small step leads to more.
Iryna Dzhulai, Head of Operations at DEOL Partners, Senator's developer and operator, says: "We run to promote healthy lifestyle choices and revive interest in sports across the country. We run to share a common responsibility and be part of a bigger community united for a noble cause. We run to deliver care and support to those who need it most and make their and, consequently, our tomorrow better than today. We truly believe – there is no prosperous future without healthy children. Let's combine our effort for the sake of little hearts, our younger generation, and their peaceful and productive life!"
We invite you all to attend the Chestnut Run and celebrate the Kyiv Day together with us.
Details about the event.