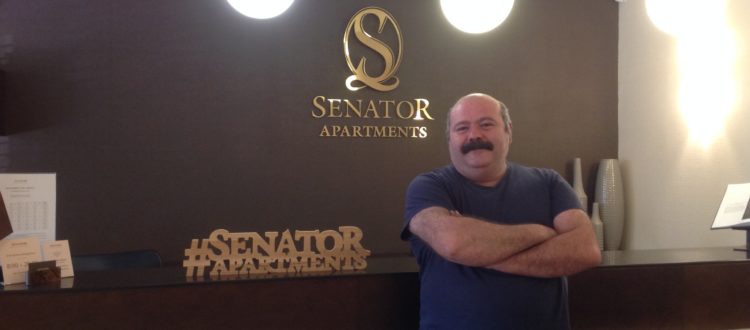 Exclusive interview with world famous muralist
Another significant international art project has recently been launched in Kyiv. The international initiative MORE THAN US brings together eight big-name artists from all over the world to jointly create one impressive mural – a monumental visual – on the wall in the Osokorki metro station.
"Their work reveals their interpretation of and approach to various issues crucial for Ukraine, starting from people's inner strength up to national cultural values. The artists will stay in Kyiv until late November, and we all can watch the progress as they work", Geo Leros, the project curator, writes on Facebook.
Actually, the project has been prolonged until late December.
Senator Victory Square, a partner of this significant event, sits down to talk to Kraser, one of the muralists engaged in the initiative that has already caused a stir in the city. His piece features Ukrainian endangered species of animals and plants that live in eastern and western regions of the country.
Kraser is a multi-disciplinary artist widely known for his surrealist murals. His works have been exhibited in galleries and museums in Spain, Brazil, Denmark, China, Italy, etc.
You were born in Cartagena, Spain. Now you live in Milan. Why did you choose to move to Italy?
Cartagena is a very small town where classical painting is hugely favoured. And this is not my style. Art should be more creative, I think, especially nowadays when everyone can use a camera to take pictures. Cartagena provides no opportunities for me, as an artist, while Milan has a variety of options.
You started painting at your early age. Does the artistic vein run in your family?
I took fancy to graffiti at the age of 12. Who influenced me? First of all, one of my neighbours was a painter and I saw him at work. One of my relatives was also a painter, whereas somebody down my mother's line was a singer. Moreover, my cousin is a tattoo artist. Yes, we have this artistic vein running in the family, however, we present different artistic spheres. 
Animals are a key element of your works. Why?
When I started making graffiti, I mainly used letters. Then I decided to integrate some figures – exactly animals – into my works. Nowadays, cities and towns constantly grow. Involved in street art, I paint animals to show that they had inhabited these areas before humans came along. Some time ago, I created a large mural featuring a hyena in a small city near the Victoria cave. The thing is, hundreds of extinct species, including hyena fossils, were found in this cave. Yet the small city does not have resources to further explore this important archaeological site. I wanted to attract attention to this crucial issue. There is another example – I painted brown bears in Bucharest to draw public attention to the government license allowing people to kill bears if they come near the city.
How many countries did you visit as an artist? What projects do you value most?
Apart from Italy and Spain, I worked in China, America, Germany, Greece, Ukraine and others. I can't distinguish some certain project – all of them are special and important for me.
You are not a new comer to Kyiv. A couple of years ago you created the mural Mind, Body and Soul featuring a brown bear in Podil under the international project ArtUnitedUs. What makes you wish to return to Kyiv and take part in another art initiative?
I like bears; I paint them all the time. They are listed as endangered species, that's why I choose this image. Moreover, they symbolise strength and power. I really enjoyed my engagement with the ArtUnitedUs project. And I am happy to come back to Kyiv and take part in another important project involving talented artists from different countries to make something important together.
Tell us more about the project.
Truly, I did not know earlier that I would have to work at night for three hours when the metro was closed to the public. The project takes longer than I expected given the fact, that walls are high and uneven and therefore difficult to paint on. Anyway I am determined to finish my work and share my art with all Ukrainian people. The main idea is to show that East and West are together, are united.
What is your impression of Kyiv?
Kyiv is a fantastic European city, secure and rich in history and culture. I am impressed by its historical sites, like Golden Gates. I am surprised to see plenty of high quality restaurants offering good food. The city is also a big open-air museum of street art. I think much more tourists must visit Kyiv. I feel happy here and keep telling my friends how wonderful this place is.
It is not for the first time that Senator Victory Square contributes towards shaping Kyiv's art scene. In 2016, it became the first hotel in Ukraine to feature the powerful mural painting on its wall – the 24-metre-long surrealist artwork The Labyrinth created by promising street artist Rustam Qbic Salemgaraev as part of Art United Us. This global initiative involved 200 artists in producing 200 new murals in different places all over the world. We are happy to add, that Street Art News ranked The Labyrinth fourth among the world's 10 Most Popular Street Art Pieces of March 2016.