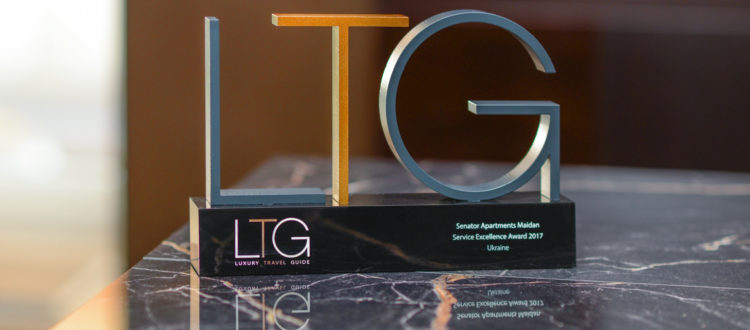 Luxury Travel Guide praises Senator for excellent service
Senator Apartments, Ukraine's number one apart-hotel chain, takes home another international trophy. Senator Apartments Maidan expands its collection with Service Excellence Award 2017 granted by Luxury Travel Guide, a leading provider of travel and lifestyle related news, reviews and features to the global business community.
It is a very prestigious prize as the Luxury Travel Guide Awards recognise and celebrate excellence across all sectors of the affluent travel and tourism industry by presenting Luxury Hotel Awards, Luxury Awards, and well known Global Luxury Travel Awards, and Luxury Hotel Awards.
Their experts have scoured the globe and travelled extensively in order to identify everything from the very best hotels, airlines and tour operators through to highlighting the most reputable transfer service companies.
"We opened Senator Apartments Maidan just 4 years ago. It is the third property in the chain. We are proud that our hotel won love and loyalty of both Ukrainian and foreign guests within such a short period of time. Many awards testify to our success. And we are thrilled to be the first hotel in Ukraine to receive Luxury Travel Guide's recognition. This exclusive edition is designed for wealthy travellers. It is so exciting that its experts highly appreciated the level of our service. I am immensely grateful to the Senator team for their fantastic commitment, for their passion and for care and attention they give to every guest", says Maryna Rymarenko, General Manager of Senator Apartments and Partner for strategic development, investments and hospitality at DEOL Partners (the developer and operator for the Senator chain).
«We are proud that our hotel won love and loyalty of both Ukrainian and foreign guests within such a short period of time»
Opened in August 24, 2013, Senator Apartments Maidan is the third property of the Senator chain. The apart-hotel is nestled in the very core of Kiev, only a few steps from the legendary Maidan (Independence Square) and the city's main thoroughfare Khreshchatyk.
Though close enough to 'the action', the apart-hotel is snuggled up in a quiet nook. Thus, guests can both enjoy the quiet comfort at Senator Apartments Maidan and experience all the benefits provided by the enticing neighbourhood.
Senator's collection of international and local trophies is quite impressive. Only last year, the chain received the World Travel Awards as Ukraine's Leading Serviced Apartments and the Ukrainian Hospitality Awards as Best Apart Hotels, and many others.
The Senator apart-hotels keep holding top positions in the TripAdvisor and Booking.com rankings.