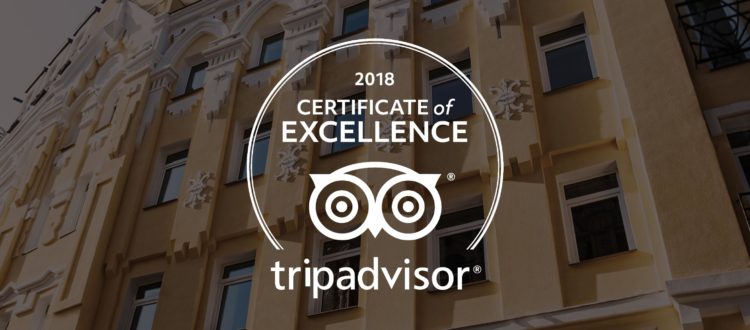 Senator Maidan awarded with TripAdvisor Certificate of Excellence
I associate the Senator chain with an uncompromising comfort, warmth and coziness that accompanies business-guests and travelers during their cultural and engagements. This was and remains my vision for Senator Hotels and Apartments to this day; however, there are certain aspects of hospitality that are very individual, thus, when new developments are at hand – our team pays close attention to guest feedback, constructive reviews, that ultimately become the addition of our service and approach.
Ruslan Oleksenko, founder of Senator Hotels and Apartments
The year of 2018 is only halfway through and it already has been full of noteworthy achievements for Senator Hotels and Apartments. At the beginning of the year, Senator Maidan received the Travellers' Choice award from TripAdvisor's and made it to the list of top 25 hotels and top 10 hotels for service in Ukraine. Furthermore, during the World Travel Awards 2018 gala ceremony that was held on June 30, Senator Maidan was named Ukraine's Leading Serviced Apartments.
In addition, Senator Maidan has also claimed the Certificate of Excellence, acquired only by 10% of best businesses on TripAdvisor.
Certificate of Excellence
Certificate of Excellence was introduced to the platform in 2011, which makes it a relatively recent addition to the evaluation system of TripAdvisor. The certificate is received by those businesses that consistently maintain a high rating and regularly receive positive reviews. Before anything, this trophy showcases consistency in service, an ability to preserve established standards and a high satisfaction rate across all the years of operation.
About Senator Maidan
Senator Maidan has been at the top of TripAdvisor since the year it has opened, to some extent, due to the pre-established standards that brought the Senator chain to the top of the hospitality industry. Since the very opening, the apart-hotel has won over five TripAdvisor's Travellers' Choice awards and continues to provide the comfort and amenities that every traveler deserves.