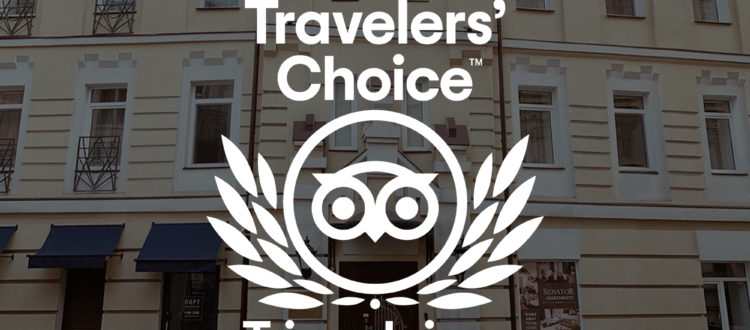 SENATOR TAKES HOME THREE TRIPADVISOR AWARDS
This year, the world's largest travel platform TripAdvisor lists Senator Hotels and Apartments among the top 10% of hotels worldwide.
All our apart-hotels, Senator Maidan, Senator Victory Square and Senator City Center, have garnered Travellers' Choice Awards 2020. It is TripAdvisor's highest distinction given to the best properties across the globe, according to feedback shared by millions of travellers.
For many years, our part-hotels have been retaining their leading positions on TripAdvisor.
We are thankful to our guests for their wonderful reviews of the Senator chain – here are some of their opinions:
A guest from Thessaloniki, Greece: "All the girls at reception are polite, attentive and really helpful. Spacious room, free coffee/tea, good location (close to the city center). Many good restaurants around.Will definitely be back soon".
A guest from New York City, the USA: "Liked the location. Clean and safe place to be. Close to dining options and tourist hot spots. Staff was friendly and bed was comfortable.. close to subway station and easy to access banks for exchange."
A guest from Inverness, Scotland: "Stayed at the Senator City apartments over two nights for a stop over in Kiev. Excellent staff very helpful. Room was excellent with a small balcony and excellent air conditioning. Fresh bottled water in the fridge daily. Located a short walk from Universityat Metro Station very good location. Shall return when we are visiting Kyiv again". 
This year the first apart-hotel, Senator City Center, celebrates its 15th anniversary. Founded back in 2005, it gave birth to Ukraine's first chain of professionally serviced apartments in the very core of Kyiv – Senator Hotels and Apartments. It includes Senator Victory Square (launched in 2007) and Senator Maidan (unveiled in 2013).