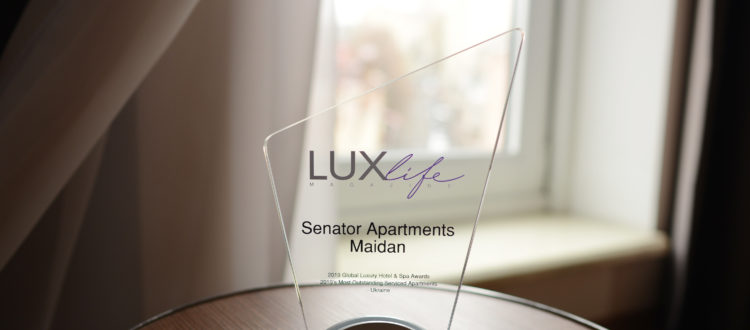 Ukraine's Most Outstanding Serviced Apartments
Senator Hotels and Apartments' collection of accolades and prizes keeps growing as we win another prestigious international trophy and attracted attention of European media.
Within the 2019 Global Luxury Hotel & Spa Awards, LUX Life Magazine has voted Senator Maidan as the Most Outstanding Serviced Apartments in Ukraine.
LUX Life Magazine is the UK-based digital luxury lifestyle publication with a diverse array of awards programmes that cover all aspects of high end lifestyle, including the finest, food and drink, hotels and resorts, health and beauty, automotive, jewellery, art and technology.
The Global Luxury Hotel & Spa Awards have been designed to reward the companies, brands and individuals who excel in the ever-growing industry of luxury hospitality – those who go above and beyond to exemplify experiences clients are seeking when looking for their latest getaway.
At the Senator chain, we take immense pride in ensuring our dear guests enjoy the best hospitality and excellent stay. This award is a solid recognition of the accomplishments, and dedication of our team at all levels.
The effort pays off – every third guest comes back to Senator again!