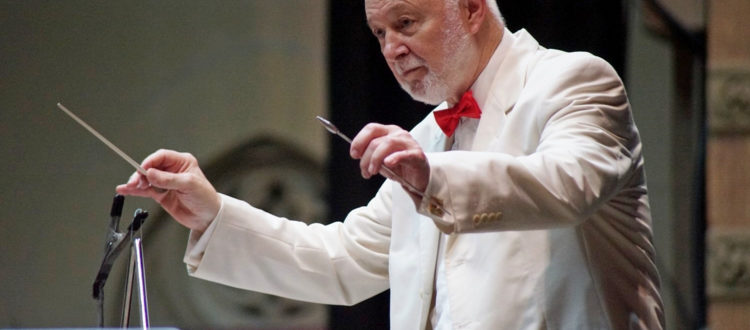 INTERVIEW WITH ONE OF UKRAINE'S TOP ORCHESTRA CONDUCTORS
Another personal story goes to our collection. Senator Maidan was happy to welcome Ihor Shavruk, Honoured Artist of Ukraine, Chief Conductor of Odesa's National Academic Opera and Ballet Theatre, Artistic Director and Chief Conductor of Odesa's Philharmonic Chamber Orchestra.
He also cooperated with the English National Ballet Symphony Orchestra and worked as a principal conductor at the Moscow City Ballet. He conducted the Budapest Opera House Orchestras, the Radio Ireland Orchestra, the Brno Opera Orchestra, as well as orchestras in the UK and Brazil.
We had an opportunity to talk to Maestro during his recent stay in Ukraine's capital, as he came to conduct Cello Pectoral featuring Kyiv Soloists, National Chamber Ensemble.
In Ukraine, a musical repertoire comprises mostly works by foreign composers. What should we do to ensure that Ukrainian composers are popular not only here, yet across the world?
Ihor Shavruk: Audiences have always been and remain conservative. They prefer listening to music they are familiar with. People are very cautious about or even indifferent towards anything new. They are unprepared for novelties. It is the same old story. Therefore, present-day performers, musicians, conductors have to promote modern music. Their concerts and performances should include works by Ukrainian composers. Truly, we have got talents.  
Most recently, I was introduced to works by Oleh Bezborodko – we performed his compositions, and they were warmly received by audiences. I have to mention another young Ukrainian composer, Oleksandr Rodin. I personally know him and gladly perform his music. Promotion of national talents must be on our agenda – our young composers may well be highly competitive in the international arena.
You have collaborated with a number of European theatres. Tell us about your experience. Where did you get more inspiration to express your creative potential?
Ihor Shavruk: I worked with British musicians for 15 years, and they taught me a lot. In our country, for a long time we went by the rule stating that a conductor had to be a dictator. Of course, the times of 'dictatorship' are over, since modern-day musicians are educated, highly qualified professionals. It takes a lot to be their 'dictator.' Otherwise, they can easily put you in your place.
What makes British musicians special is that they learn how to be self-reliant and self-sufficient from their childhood. Never in rehearsals did they bother me with a question: "Maestro, explain to me what needs to be done." I would notice that a musician might not have understood something. However, during a break, he or she would go into the corridor to read their score once more, make some notes and find a solution – on their own! On top of that, they always show up fully prepared and able to play. Therefore, our rehearsals are very productive as we focus on performing music instead of learning a score. I'd rather Ukrainians applied the same approach.
If your interpretation of a musical piece differs from that of an orchestra, how do you come to terms with them?
Ihor Shavruk: Music is a compromise. There is no 'ideal model' of performing music. No one can say 'it should be done in this fashion and in no other way'. Different orchestras will present the same piece differently.
One conductor will make a large symphony orchestra sound like an amateur band, and, another one will make an amateur band demonstrate the level of a big symphony ensemble. A lot depends on a conductor. Of course, one may encounter resistance of orchestra members, especially if they are an ambitious, award-winning team. The conductor must convince orchestra members that his or her interpretation of music is good and consistent, or offer a reasonable compromise to be agreed upon.
Does an orchestra happen to lead a conductor?
Ihor Shavruk: It is not about 'leading'. A well-coordinated, efficient orchestra may rather help a conductor. The first rehearsal with an unfamiliar orchestra resembles a boxing match – it is like a reconnaissance in force. What matters most is that orchestra members show a friendly attitude towards a conductor. The Berlin Philharmonic told me a joke: "We look at the conductor, if he is a good person, we play as best we can, if he is a bad guy, we play by the hand."
What are your favorite composers?
Ihor Shavruk: At some point in my life, I was addicted to Beethoven and, of course, Wagner. In Odesa and Lviv, we perform Wagner's operas in a concert format. There was a period when I took fancy to impressionists, including Ravel, Debussy.
Why do conductors shake hands precisely with the 'first violin'?
Ihor Shavruk: The 'first violin' means a concertmaster, an orchestra leader. In the UK, by the way, this is a special job category. At first, orchestra members go to the stage and take their seats in a pit. They are followed by the concertmaster who receives a separate round of cheers and applause. The leader tunes the orchestra up. Now it is a conductor's turn to do the rest.
Just a few words about Cello Pectoral
Ihor Shavruk: The concert concept is very interesting. When musicians begin to play Bach's Sarabande, arranged for four cellos, they immediately create a special, sophisticated atmosphere marked with mood elevation.  
Kyiv Soloists are an outstanding orchestra. This is a well-organized team with their own vision and their own sound aesthetics. It is very important that the team have their own face. Moreover, it is very useful – after all, working with different teams, we, conductors, also learn a lot.